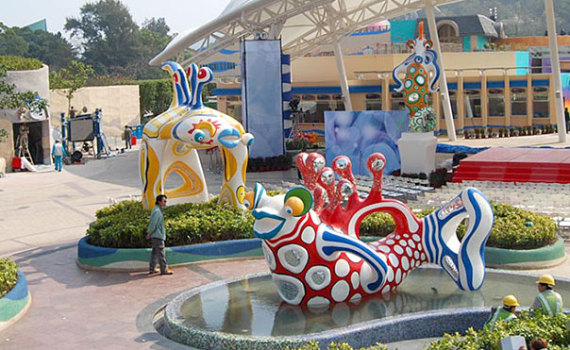 Ocean Park Entrance Plaza, Hongkong 香港海洋公园入口广场
Ocean Park Hong Kong is a marine mammal park, oceanarium, animal theme park and amusement park located in the Southern District of Hong Kong. Since its opening in 1977, it has grown to a size of 870,000 square meters with around 35 attractions and rides. It has won several awards including The World's Seventh Most Popular Amusement Park, and 33rd Most visited Tourist Attractions in the World by Forbes. In 2012 it was nominated as one of the three Finalists for the World Renowned "Applause Award" by Liseberg Amusement Park.
This new Entrance Plaza was launched in January 2001 together with the redevelopment of the whole Tai Shue Wan area. It replaced the previous main entrance and become the major entrance for the park, as well as the first attraction that comes into view of visitors.
VOTED BEST PARK 2013
香港海洋公园是位于香港南区的海洋哺乳动物公园、水族馆、动物主题公园和游乐园。自1997年开幕至今,其面积在多次扩展后已达到87万余平方米,拥有约35个景点和游乐设施。园内除娱乐项目外,还设有观测站和教育部门,以及鲸鱼与海豚专项基金。香港海洋公园曾获多个奖项,包括被福布斯提名为"世界七大最热门游乐园"之一,以及"最受欢迎的旅游景点"第33位。2012年其被裡斯本游乐园提名为世界着名的"掌声奖"三名入围者之一。
被选为2013年最佳主题公园